Do you feel like there is never enough money to...
What if the root cause of these issues, and a myriad of others were the direct result of not charging the appropriate price for your cabinetry. If that were the case, would you know it?
Do you ever feel like you are making cabinetry for others at YOUR families expense?
Do your Estimates and Proposals Manage your Customers EXPECTATIONS?
The one thing that just might be harder than managing employees, which is pretty tough, is managing customer expectations. A detailed Estimate and Proposal done well will do just that. Many customers seem to think that if you discussed an item, even just in passing (that's a nice trash pull out), that you have included that in their Estimate. A line by line list of EVERYTHING that makes up their job with it's cost sucks the wind right out of those sails.
DO YOU PUT THE SAME LEVEL OF CRAFTSMANSHIP INTO YOUR ESTIMATES AND PROPOSALS THAT YOU PUT INTO YOUR CABINETRY?
Uncertainty!
Many cabinetmaker struggle with sleep at night, worrying if their estimates are accurate, if their costs will be covered and if there will be any profit left when all is said and done.
Peace of Mind!
Cabinetmakers that use Custom Cabinet Estimator know their estimates are accurate, their costs have been covered and a healthy Profit included.
Ugly!
Are your Estimates and Proposals ugly? Do you constantly get requests for more details? Is it possible that your Estimates and Proposals are losing jobs for your company?
Beautiful!
Custom Cabinet Estimator provides beautiful Estimates and Proposals that you can be proud to present, and will help you close more deals.
Frequently Asked Questions
Windows 10 or 11 Pro Edition: 32-bit and 64-bit.
Windows 10 or 11 Enterprise Edition: Anniversary update.
Windows 8.1 Standard Edition and Windows 8.1 Pro Edition: System updates 2919355 and 2999226.
Windows 7 SP1 Professional Edition and Windows 7 SP1 Ultimate Edition: Last updates offered.
If you need a multi-user version of Custom Cabinet Estimator, and plan to do a peer-to-peer network (not recommended) you will need a copy of FileMaker Pro 16 on each machine you need to operate Custom Cabinet Estimator from, as well as your pretend server. This pretend server will need to be a pretty powerful PC (the best/fastest machine you can afford), and it needs to be designated to FileMaker Pro 16 and Custom Cabinet Estimator only. You will also need to include a User for this pretend server when purchasing your multi-user version of Custom Cabinet Estimator (if you have two users, then you will need to purchase the 3 user version of Custom Cabinet Estimator).
If you plan on doing the "Real Deal" network, you will need a Server running Windows Server 2016 and FileMaker Pro 16 Server, and a copy of FileMaker Pro 16 for each PC you will have an operator for (you do not need the extra user for the Server like the pretend server for the peer-to-peer network). If you already have a Server with Windows Server 2016 on it, loading FileMaker Server is very straightforward, and FileMaker provides great support to help you with that process.
OR, you can utilize the ONLINE version of Custom Cabinet Estimator, which supports multiple users (true file locking capabilities). Eliminate the cost and hassle that comes with an on-site Server and just have us Host your copy on our Cloud server. Many of our Online version users do not need multi-user capabilities, but just love that they can access Custom Cabinet Estimator from any PC or MAC.
Minimum Requirements:
CPU: 1 GHz or faster x86- or x64-bit processor
RAM: 1 GB
Recommended Requirements:
CPU: 1 GHz or faster x86- or x64-bit processor
RAM: 2 GB or more
OR, use the ONLINE version and access from a browser with any PC, MAC or Android device, or using FileMaker Go (soon to be Claris Go) to access from your iPhone or iPad.
Since Custom Cabinet Estimator comes loaded with literally hundreds of items and processes, you can use it immediately after installing it. You will ultimately want to compare the loaded pricing with your vendors pricing, but most find it to be really close.
Some of the items that are pre-loaded are (all can be edited by you):
Over 300 Cabinet Types
Over 100 of Conestoga Wood Specialties Doors and Drawer Fronts
Over 132 of Conestoga Wood Specialties Finishes and Finish Options
Just under 500 Trim and Molding items
Over 250 Sheet-good and Hardwood materials
Over 300 Hardware and Accessory items
A wide variety of PVC and Veneer Edgebanding
Pre-loaded Labor Rates 
A handful of Default Terms options
A handful of Default Markup options
A handful of Default Material Selections
Several dozen Default Hardware Selections
A handful of Sample Jobs for comparison
That's a subjective question. I think the best unit of measure to use would be cost as opposed to Kitchens, or cabinet quantity as some Kitchens cost $6,000.00, and others cost over $100,000.00, and some Kitchens have 10 cabinets or less, and others have 30 to 40 cabinets.  
My personal experience is that you will spend approximately 20 to 30 minutes per $10,000.00 of cabinetry and all the supporting elements for that cabinetry.
The answer for the vast majority of cabinetmakers is definitely not. If you are really new to cabinetmaking, you might not have the chops to layout a kitchen from blueprints, or a sketch, but most can by simply marking up the plans with a pencil and maybe a highlighter.
Our primary mission way back in the late 1990's when Custom Cabinet Estimator's predecessor (Business Partner) was developed was to be able to quote cabinetry without having to draw it first. I'm not aware of anyone that gets 100% of the jobs they provide estimates for, and for most, the success rate falls somewhere between 5 out of 10 to 7 out of 10, depending on the health of the economy. We did not want to draw all 10 to only get 5 to 7 of those 10.
Plus, the vast majority of clients expect a FREE estimate, but my experience was that I could and did charge clients for drawings (my design), and I want my process to encourage that, not discourage it. Custom Cabinet Estimator used as intended will support you in charging for your design work, let it help you make more money now and in the future.
Notice the use of "we ask you" throughout the following. Creating an Estimate or Proposal with Custom Cabinet Estimator is very much like an interview (we ask you questions, you answer the questions), and one of the really cool features of Custom Cabinet Estimator, is all the questions we ask that have financial implications are asked with a field background color of green (the color of money), and all other questions have a field background color of white.
The first thing we ask you to do is create a Job, entering details like Job Name, location, contact information, terms, conditions, markups, mileage to job-site, number of delivery trips to job-site and default cabinet heights.
Then we ask about your Client, with places to enter all the relevant contact information.
Then we ask you to Add your Rooms, some like to add all the rooms first, then come back and detail out each room. I always added a room, added all the details for that room, then added the next room, and so on until all rooms were added and all details added to the room.
Then we ask you to tell us what Exterior Materials you will be using. This is the most complex, and the densest of all the pages/tabs/interfaces you will deal with, but 100% of the just under 100 questions we ask can be answered by choosing a single Default Material selection (you can have as many of these Defaults as you need, but usually a couple dozen is sufficient). 
Then we ask you to tell us what Interior Materials you will be using (only 26 questions on this interface, and these are also answered by your Default Material selection from the last page/tab/interface).
Then we ask you to tell us about the Base Cabinets in this room, how many linear feet of base cabinets, and how many of each cabinet type (the cabinets are chosen from a list and added by clicking on them).
Then we ask you to tell us about the Wall Cabinets in this room.
Then we ask you to tell us about the Tall Cabinets in this room.
Then we ask you to tell us about the Vanity Cabinets in this room, if any.
Then we ask you to tell us about your Finished End Panels. How many of what size and type. 
Then we ask you to tell us about your Fillers and Toe Board. On the Toe Board, we will have a suggested quantity based on the linear footage of Base, Tall and Vanity cabinets you entered earlier (we also factor in returns for finished ends).
Then we ask you about your Hardware (both Functional and Decorative). In both cases, we provide an option for making your selections, then adding a Standard Quantity, based on questions you have already answered (we can make a pretty good educated guess at how many hinges, drawer guides, knobs and/or pulls you will need based on what you have already told us). If our guess is not right, you can make adjustments for cabinets you know are getting 3 hinges per door instead of 2, or drawers that are getting 2 pulls instead of 1.
Then we ask you to tell us about your Accessories, which might be a Lazy Susan, Trash Pull-Out, or one of several hundred other things.
Then we ask you to tell us about your Trim and Molding. Like some of the other items I have listed, we will suggest a quantity for your Crown and Light Rail, and you can add any other Trim and/or Molding needed. NOTE: Trim is wood items that will need to be finished, but are not not linear like molding.
The last page/tab/interface you will come to is the Labor Rates. Typically this does not change job to job, so a quick review of this page, and you are done, ready to print your Estimate or Proposal.
Yes it does. Originally, way back in 1999, Custom Cabinet Estimator's predecessor (Business Partner) was Full Access only, but Frames were added several versions later and have been a part of the Software for many years now.
Yes it does. There are several levels of internal cost reports to assist you in Labor and Material cost analysis, but one of my favorite reports is the Purchase Report.
The Purchase Report is just what is sounds like, a report that lists the things you need to purchase. If your Proposal listed a lazy susan, 24' of crown mold, 13 pulls and 7 knobs, then obviously you need to purchase those items to be able to supply them. 
The Purchase report lists everything you told your client they would be getting with a checkbox to the left of the item. As you order these items, you can check them off the list. Here is an example: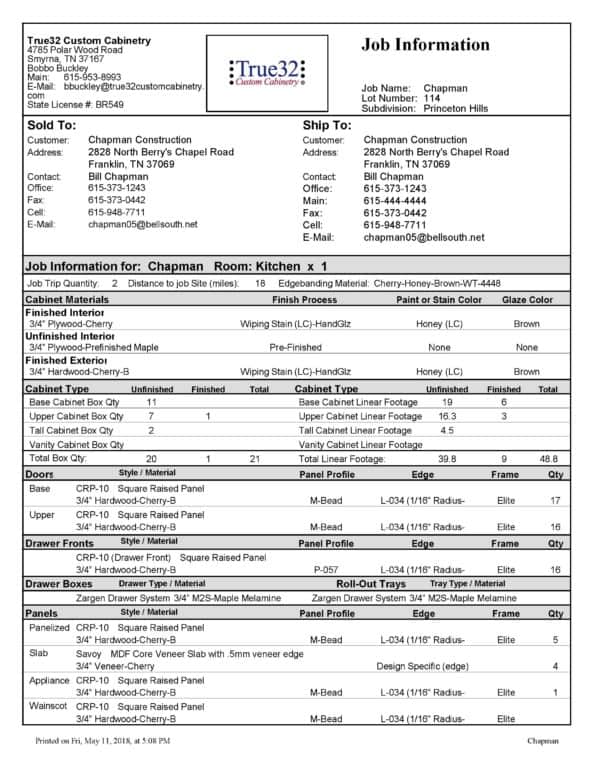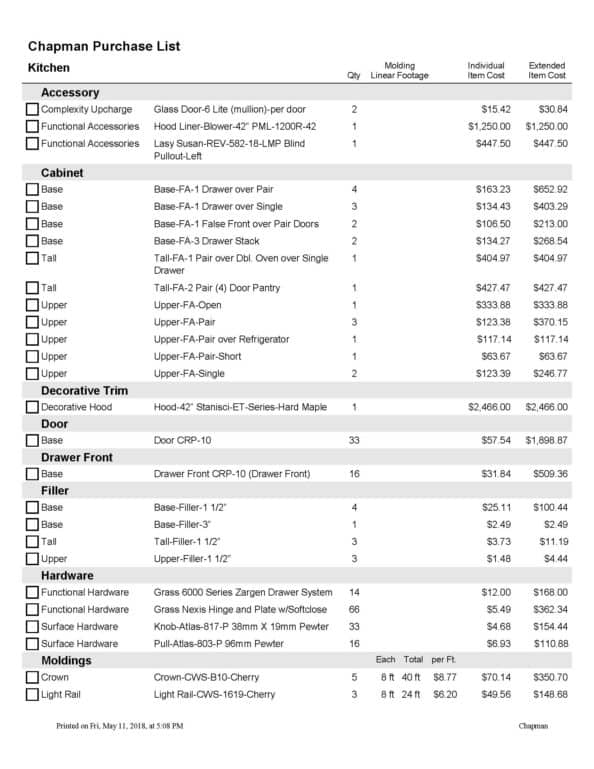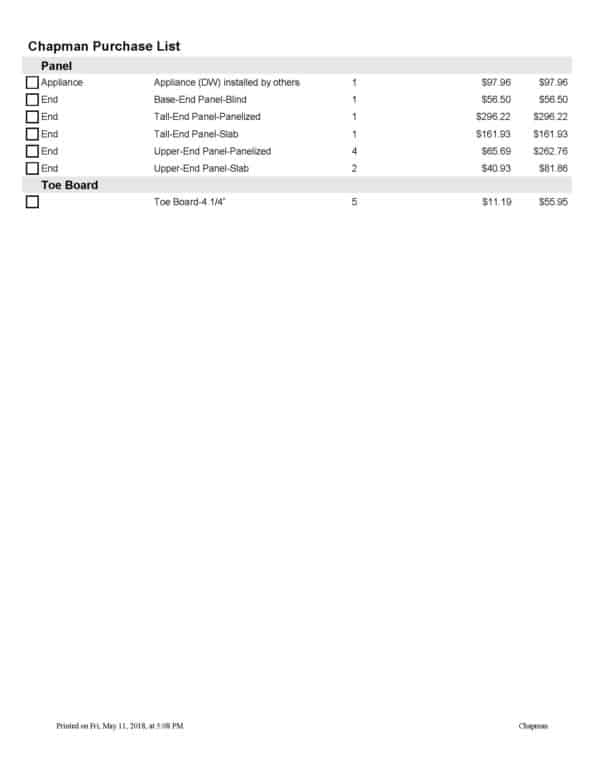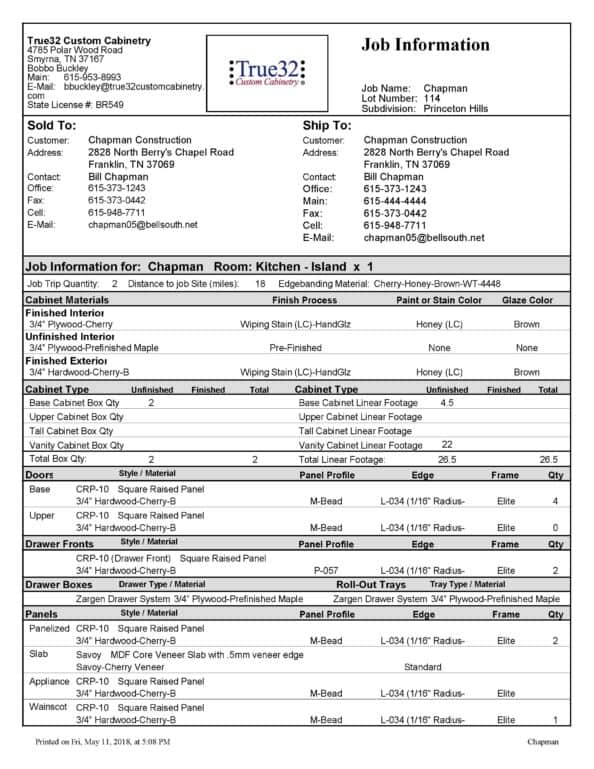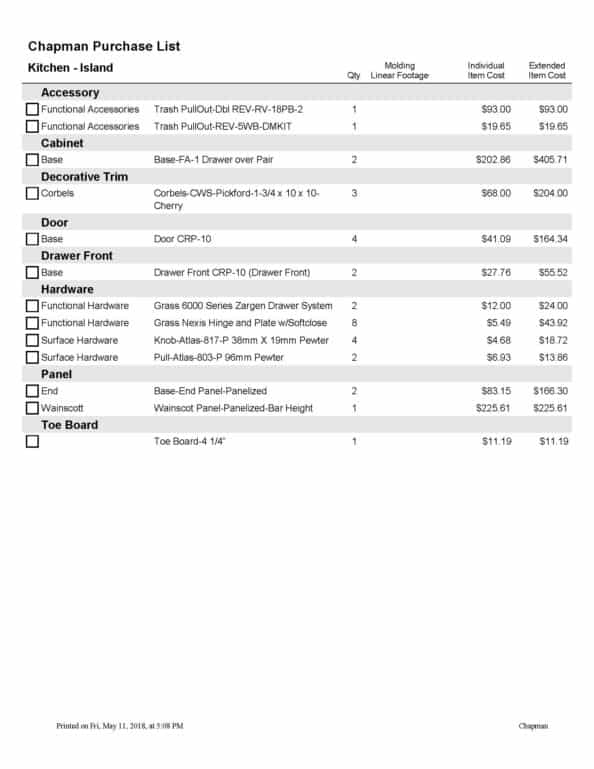 Yes you can, but it's not recommended. If you have two copies installed on two different computers, then the data and your projects live in two place, so you can only access the jobs you created on computer 1 from computer 1, and the projects you created on computer 2 from computer 2 (not ideal), and if you update the price of a door, material, accessory, etc., on computer 1, you will need to do that again on computer 2 or vice-versa (again, not ideal).
You have several options if you need to use the DESKTOP version of Custom Cabinet Estimator at more than 1 location:
Install CCE-DESKTOP on a laptop, and take it with you when you need to do Estimates and/or Proposals. This also works well if you have two users, but never need to access CCE at the same time, just pass the laptop to the second users when needed.
Install CCE-DESKTOP on a PC or Laptop at location 1 (a PC or Laptop that can be left on 24/7), and access with other PC's or Laptop's using GoToMyPC, or Google Chrome Remote Desktop (both work really well).
If neither of those options works well for your company, you can always upgrade to the ONLINE version (even if you don't have multiple users) as that version can be hosted, and then you can access CCE from any computer with an internet connection. This option does have a monthly recurring cost, but allows you to access Custom Cabinet Estimator from any PC, MAC or Android device using a browser (Chrome, Edge and Safari are fully supported, but most of the other browsers will work as well), and on an iPhone or iPad using FileMaker Go (soon to be Claris Go as the FileMaker name is being retired in late 2022).
Estimating Software Designed and Developed by Cabinetmakers for Cabinetmakers
I'm Convinced!
What Next!